INVISIBLE INFLUENCES – Where are the great female artists in history?
Ever heard of any great female Renaissance artists? Even just one?
Here's guessing that only art specialists, academics and experts, and perhaps a tiny handful of passionate art-lovers are even aware that there were any great female painters and sculptors in history. For example who has heard of Plautilla Nelli, whose Last Supper, painted around the same time as famous works by Da Vinci, Michaelangelo and Botticello, is considered one of the most important paintings in the history of art? When Plautilla Nelli painted her large-scale masterpiece depicting the Last Supper in the 1570s in Florence, Italy, she was doing something no woman before or after her had ever done – painting the first and only known "Last Supper" by a woman!
Well please don't feel bad if you love art but don't know of Nelli or her work. Because, whilst clearly a popular artist at the time, Plautilla Nelli is not commonly listed amongst the great artists of the Renaissance. In a tale as old as patriarchy itself, despite the fact that her large-scale paintings, wood lunettes, book illustrations and drawings can be found in uncountable convents and the homes of many noble Florentines, she was written out of every renaissance history or art book because she was a woman!
And sadly, although women now have the vote (well in most countries) and equality considerations have come some way since the Renaissance, this strong gender imbalance still skews every major art collection in the world!  It is systemic and exists in the enormous gaps evident in collections of publically funded institutions and in some of the biggest commercial galleries in the world.
Consequently, the art considered to be the most valuable, in monetary and also in cultural terms, is almost all by men. Famous museums that are home to the greatest collections boast works by Matisse, Picasso, Van Gogh but a female equivalent for each of these artists doesn't roll off the tongue. This isn't because they haven't or don't exist, but because they have been airbrushed out of the art scene.
It is damning that the auction record for a work by a deceased female artist is held by Georgia O'Keefe for her piece Jimson Weed/White Flower No1 sold in 2014 for $44.4m – a mere 25% of the record-breaking $179m paid in 2015 for Picasso's Les Femmes d'Alger and over four hundred million dollars less than the auction record for a male artist: Leonardo Da Vinci's Salvator Mundi, which sold in 2017 for $450.3 million, (shattering the previous record of $179.4 million for a work by Picasso). (artnet News, New York Times)
And interestingly, thanks to a crowdfunding campaign sponsored by the non-profit Florence-based Advancing Women Artists Foundation (AWA), Nelli's Last Supper is currently under restoration and scheduled to go on view in the newly refurbished Santa Maria Novella Museum in 2019, the first time in 450 years that the painting will be publicly displayed.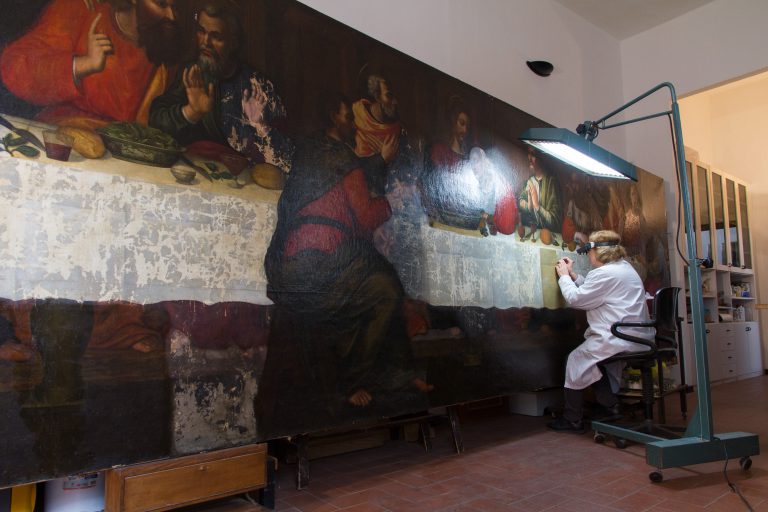 If you want to be part of this long overdue art revolution please have a look at our website to see some of the sculptures created by our extraordinary female AND male artists
Pick something you like for its beauty and give us a call if you like a particular artist's work and would like to commission something specific. We'd love to hear from you.